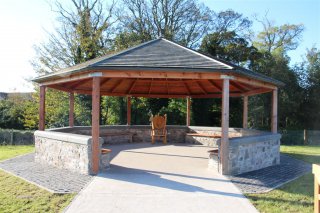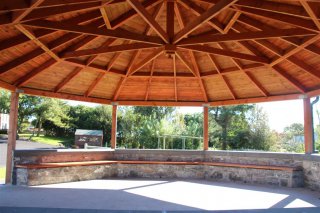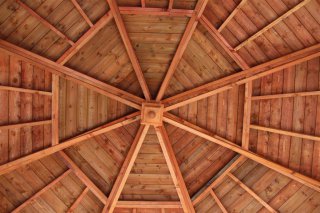 whithorn community hub
Set within the grounds of Whithorn Primary, the hub serves as an alternative meeting place for established groups in Whithorn and as a meeting place for other groups looking for this type of facility. Located in the school grounds of Whithorn Primary School, the children have full access to the facility.
The project was also encouraged by pupils and staff who identified an opportunity to develop their environmental awareness and use this facility to further their learning in a healthier and more eco-friendly environment.
inspiration
The project was inspired and led by the Whithorn Primary Parent Council. The hub is an eight-metre diameter octagonal structure made from Douglas fir timbers and a cedar-clad roof. The walls are constructed from natural whinstone and built by local stone masons.
DESIGNING THE ROOF
Finite Engineering was responsible for engineering the timber roof structure. The desired form as seen from the pictures was not achievable as a standard proprietary solution. A bespoke timber roof structure was therefore analysed as a three dimensional structure to best represent the design.
To stabilise the roof against lateral thrust a continuous timber ring beam was modelled to react in tension under roof load. Continuity was achieved via metal connections at the column supports to ensure transfer of tension forces between beams.
The timber columns were built fully into the stone parapet wall such as to provide fixity around the base and to give the hub overall stability.
DO YOU HAVE A PROJECT IN MIND?